Caught Laughing
is the new record by the Norwich, England quintet Fiel Garvie, and the band's second release for the Minneapolis-based Words On Music label. The collective has released five singles, one EP, and three albums in the decade since their formation in 1996.
Mixed by Geoff Allen (Camera Obscura, Teenage Fanclub, Belle & Sebastian, Mogwai)
Caught Laughing
continues Fiel Garvie's reformation of pop music through nine spellbinding new songs. Rather than abandoning the pop form altogether, Fiel Garvie cunningly sidesteps its conventions with a distinctive flair and ambience that does not cloud the quintet's fluency in melodies and hooks.
The album begins with the lullaby "Special Rate," whose string arrangements and whispered vocals by Anne Reekie pronounce the band as an exquisite practitioner of baroque chamber pop. Reekie's voice — often cited by critics for her poignant, unconventional delivery — is likewise not simply a lyrical conduit, but also a gateway to an enchanting, unfamiliar world of sound.
"The Palace Lights," the album's first single, is a deceptively jaunty tale of seaside suicide, set to an insistent keyboard figure and borne along with the sweetest melody, designed to inveigle itself into your consciousness and stay there with a limpet-like sticking power.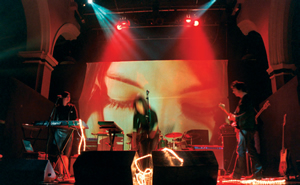 Mid-tempo songs like "Estimate" and "Daylight" gracefully march alongside American Analog Set and Yo La Tengo, while "Air Song," the album's epic centerpiece, pulsates and loops in a manner that conjures up the work of Stereolab.
"Dreaming is good because it outlasts us all," Reekie closes the album's second track "Estimate," and the passage is an apt account of the impressions left by this record. In
Caught Laughing
Fiel Garvie create an enduring, hallucinogenic microcosmos inhabited by exotic, spherical keys, bashful peals of becalming guitars, subterranean basslines, and columns of percussion that announce themselves in sporadic, yet potent, intervals.
Caught Laughing
launches Fiel Garvie into their second decade of delivering idiosyncratic pop music, and unqualifiedly continues their tradition of fearlessly flying their flag of independence.


1. special rate (3.18)
2. estimate (4.01)
3. the palace lights (3.19)
4. daylight (3.23)
5. airsong (6.08) [video]
6. shy away (3.48)
7. all of you (5.15)
8. off and on again (4.27)
9. we wish (4.57)